Johns Hopkins Scleroderma Center benefits from charity car auction in 2012….and again in 2013!!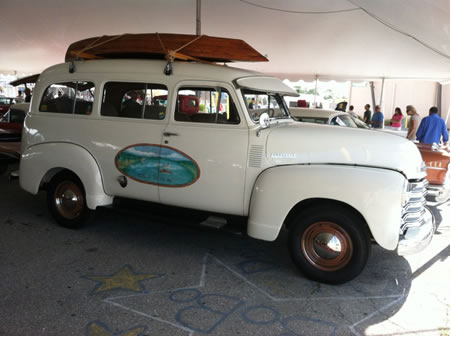 Through the generosity of Mr. Joe Riley and National Auto Mart, the Johns Hopkins Scleroderma Center and Dr. Fredrick Wigley gained the exposure of a nationwide audience at the 2012 Barrett Jackson Palm Beach Collector Car Auction when a vintage Chevy Suburban donated by Mr. Riley was sold, with all proceeds benefitting the Johns Hopkins Scleroderma Center.
The auction took place on the final day of the event, Saturday, April 7, 2012 and was covered live on the SPEED Channel, giving Dr. Wigley the opportunity to address the crowd in attendance and at home about the disease scleroderma and the work being done at the JHSC.  Lot #3005, a 1951 Chevrolet Suburban Carryall, "crossed the block" at approximately 12 Noon and after some feverish back and forth bidding was sold to Ms. Ele Chesney of Toms River, NJ.  Widely recognized as one of the most prolific female collector car hobbyist in country, Ms. Chesney's collection of classic cars includes over 20 rare automobiles and she is a founding sponsor of the Vintage Automobile Museum of New Jersey.  A long supporter of various philanthropic interests, she was quickly drawn to Dr. Wigley and the passion he exhibits for his patients and all those suffering from autoimmune disease.
The '51 Suburban was a full frame-off restoration started in 1996 and completed in 2006.  The Arizona vehicle was used to transport co-workers to the Lavender Pit Mine in Bisbee, Ariz. by the second owner in 1953. There was no part untouched during restoration. Everything is new or rebuilt. The original engine was replaced with a full pressure 235cid Chevrolet engine. Mostly original parts used, some quality reproduction parts. Many regular production options like exterior sun visor, arm rest, heater, traffic light viewer, windshield washer and oil filter. Close adherence to original materials and colors on body, engine, drivetrain and interior. Optional 3rd row seat and rare clamshell rear door. The Suburban drives beautifully.
Based in Phoenix, Arizona, Mr. Riley and his firm (www.nationalautomart.com) have been supporting the Johns Hopkins Scleroderma Center since 2008 as a founding sponsor of the Tee It Up for Cathi Keilty Golf Tournament (www.cathikeilty.com) which provides direct financial support to the JHSC.
That April weekend in Palm Beach was just the beginning of a wonderful relationship with Dr. Wigley and Johns Hopkins for Ms. Chesney.  Ele was so impressed with the careful and compassionate care Dr. Wigley provides to his patients, she decided to "pay it forward" and put the Suburban back on the auction block at the 2013 Barrett Jackson Scottsdale auction – the firm's marquee event.
Lightning strikes twice!
In January, 2013 the Suburban again crossed the block during the first day of the Barrett Jackson Scottsdale auction.  The SPEED channel again covered the event live with Ms. Chesney speaking for a few minutes about Dr. Wigley and wonderful care she has received at Johns Hopkins.  Moments later the auctioneer got the bidding going and with the bang of his hammer was "SOLD" for $70,000 to Mr. Thomas Day, a friend of Ele's and car collector from Corona California.
Follow this link to watch the January 2013 Scottsdale auction!
http://www.speedtv.com/video/barrett-jackson/scottsdale/bj-51-chevy-suburban-2096640404001/1
The Johns Hopkins Scleroderma Center is forever grateful to Joe Riley for his donation and assistance working with Barrett Jackson which made the auctions possible – and to Ele Chesney for her winning bid and decision to "donate it back" for 2013 as well as to Tom Day for his interested in bidding to win the Suburban and benefit our Center in this special way.
Giving Back – For a good cause. The Barrett-Jackson charity cars bring more than $5m