Three lives, two related, but all share these qualities in person, family, and profession.
Martha McCrory lived the life she dreamed.  After graduating from Northwestern University in Illinois, she spent two years living in Florence, Italy.  In Florence, Martha was exposed to the fine and decorative arts of the Renaissance.  That experience led her to continue her studies at the Courtauld Institute in London.  Studying the History of Art, she was awarded her Ph.D. and returned to Florence.
After a number of years in Italy, Martha returned to the United States and settled in Baltimore.  Taking a position with the Walters Art Museum, she lectured and published extensively on many aspects of Art in the Renaissance period, with a particular interest in Renaissance dress and jewelry.  As an Adjunct Professor at the Fashion Institute of Technology in New York, she shared that interest with students as eager to learn as she was to teach.  The art of gem-engraving became a passion, but she had a wide range of interest.  There were few professional areas for which Martha's involvement did not lead to tireless dedication.
No one could be prouder of Martha's accomplishments than her mother, Mary McCrory from Kansas City, Missouri.  Mary was devoted to her daughter and took personal enjoyment in her personal and professional accomplishments.  She visited Martha often in Baltimore, and delighted in the opportunity to travel with her daughter through out Europe, Asia and Africa.  Mary continues to share her daughter's interest in art and the Renaissance.
In 2002, Martha was diagnosed with the uncommon disease, Scleroderma.  Scleroderma is classified as an autoimmune, rheumatic and chronic disease that affects the body by hardening connective tissue.  Connective tissue is made of many kinds of proteins among them is collagen of the skin.  Scleroderma is derived from the Greek words sklero (hard or indurated) and derma (skin).  In scleroderma, cells start making collagen as if there were an injury that needs repairing. The cells do not turn off as they should and end up making too much collagen. The extra collagen in the tissues can prevent the body's organs from functioning normally.
It was this diagnosis that brought Martha to Johns Hopkins because of Dr. Fredrick Wigley and his international reputation as the leader in the research, teaching and treatment of this life-altering disease.  Sadly, after a two-year struggle with scleroderma, Martha passed away on June 10, 2004.
Shortly after her death, friends and colleagues paid tribute to Martha by recalling her career and many accomplishments.  This outpouring of love remembered a woman as dedicated to her friends as she was to her profession.  Martha was a perfectionist with a great talent for friendship.  She was also generous host and thought provoking house guest.  She enjoyed the chance to join friends for a second hand book sale and equally enjoyed the thrill of making the winning bid for a book or two on the on-line auctions.  Very often, the book would be for her dear mother – who was also an avid reader.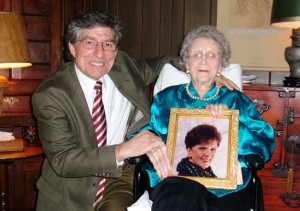 Mary was touched by the care and comfort provided to Martha by Dr. Wigley and his dedicated team.  During a visit to Baltimore in 2005, Mary and her son Donald made a gift to support Dr. Wigley's research.  Mary also wanted more.  She wanted to learn more about this debilitating illness.  She wanted to learn about the research that was being conducted at Johns Hopkins.  Most of all, she wanted to help.  Having seen first hand how devastating Scleroderma can be, Mary wanted to further the research being conducted by Dr. Wigley and his colleagues – and do it in a way that would leave an ever-lasting tribute to Martha
In 2007, Mary took the steps necessary to leave a bequest intention to fund The Martha A. McCrory Endowed Chair for Scleroderma Research.  This gift is both a remembrance of Martha and an honor to Dr. Wigley who will be the inaugural holder of the Chair.  Income generated from the endowment will be utilized to support research activities of the Scleroderma Center – both clinical and basic science – and the mentoring of a new generation of investigators.  The endowed professorship will also provide stable funding to enable Dr. Wigley to concentrate on research, providing him freedom to pursue new directions and to be more innovative in seeking medical discoveries.  The Martha A. McCrory Professorship assures that Johns Hopkins Medicine will remain the world-leader in research in this disease.
For Dr. Wigley, he is honored and humbled by this most generous gift.  Affiliated with Johns Hopkins for thirty-five years, he has dedicated his life to rheumatic illness and Scleroderma.  Since founding the Johns Hopkins Scleroderma Center in 1990, he and his faculty have made finding a cure their passion.  When learning of this gift, Dr. Wigley commented: "I am privileged to work with such an incredible team of physicians, both in our center and throughout Johns Hopkins.  To be the inaugural Martha A. McCrory Professor of Medicine is an honor for which words cannot describe.  This gift will have a direct and lasting impact for us today, and forever.  I will do everything in my power to insure the work we do is a fitting honor to Martha's memory."